About us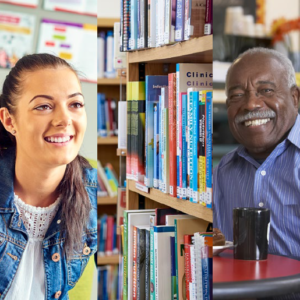 Wakefield Recovery and Wellbeing College
(Previously known as the Wakefield and 5 Towns Recovery College)  
Welcome to the Wakefield Recovery and Wellbeing College; our growing, co-produced recovery college, covering the whole of the Wakefield District, from west to east, the five towns, the south east and much further beyond the district borders.
We are one of three community recovery and wellbeing colleges within the South West Yorkshire Partnership NHS Foundation Trust. Other recovery colleges within the Trust are the Barnsley Recovery and Wellbeing College and the Calderdale and Kirklees Recovery and Wellbeing College. You are welcome to attend any of our recovery and wellbeing colleges, no matter where you live or where your GP is based.
We also have very close links with our inpatient and forensic wards at the Trust, offering inpatient courses and workshops to those who wish to attend whilst in hospital.
We are open to all adults (anyone over the age of 18, with no upper age limit) who would like to improve their own mental and/or physical wellbeing or knowledge, that of someone they love or care for, and to those who wish to aid their work with others. We offer a range of courses and one-off workshops (both face to face and online) which all aim to improve wellbeing through learning.
Some of our popular courses include:
Understanding depression
Living with and managing anxiety
Creative fitness
Understanding post-traumatic stress reactions
An introduction to mindfulness
New beginnings
Creative crafting
"Going to this fantastic place has improved my life in a very good way! Very supportive, friendly and professional…Thank you!"
Our Values
We are open to all – this means any member of the public aged 18+, from anywhere, regardless of background.
Access is free of charge – all of our courses and workshops are free to attend, for everyone.
Co-production is key – everything we do, from coming up with the name of the College, to course content and delivery, to the procedures we follow and the documents we use, is co-produced. This means those who are experts by experience working equally and alongside those who are experts by training.
We offer education, not therapy – whilst you will likely experience a therapeutic benefit from attending the Recovery College, we offer information and self-management rather than therapy services.
Everyone has a choice – we believe that everyone should have the opportunity to choose whether they wish to attend the Recovery College and to choose the topics that they would like to learn more about to benefit their own wellbeing or that of someone they care for. This is why we do not require a referral and operate via a self-enrolment process
We follow the CHIME framework – CHIME stands for Connectedness, Hope and optimism, Identity, Meaning and Empowerment (Leamy et al. 2011). You can find out more about CHIME by reading the workbook our friends at the Norfolk and Suffolk Recovery College created.
CHIME training workbook (DOCX, 423 KB)
What people have said about us…
99% of our students told us they would recommend us to their friends and family after attending a course or workshop with us.
Our youngest student was 18 and our oldest was 92!
Around 1/2 of our students identify as having a long term health condition or being disabled.
Over 1/3 of our students tell us that they are in employment, volunteering, studying or retired.
Over 3/4 of our students tel us that they are able to put the things they learned with us in to practice.
Over 1/2 of our students tell us they feel comfortable to go on and access other things in their communities after attending the College.
1/4 of our students have previously told us they went on to employment, education or volunteering and attributed this positive change to attending the College.
Around 1/3 of our students have told us that, by engaging with the College, they have reduced their contact with traditional health services.
"Keep up the good work! The reasons for not needing to see my GP as often is due to what I have learned about my mental health conditions."
Our courses and workshops focus on being mentally and physically healthy, staying well and developing the knowledge, skills and strength to overcome the challenges that we can all face at times in our lives.
Courses aren't therapy – our aim is to provide a positive learning approach in which we all share knowledge and provide the space to reflect on your own health and understanding, learning ways to self-manage health and wellbeing.
"I have enjoyed all my courses and benefited greatly. Drury Lane Wellbeing Centre is perfect because they have thought about people with physical disabilities."
The Wakefield Recovery and Wellbeing College has an official main base at Drury Lane Health and Wellbeing Centre in the middle of Wakefield city centre. This is where we conduct some administration tasks, receive our post and occasionally host some of our courses. We also have our sister base at Baghill House Health and Wellbeing Centre in Pontefract, where our staff team sometimes work from and where we host some of our east of the district courses from. (You can find our bases on the two maps below…) During the Covid-19 pandemic, the team moved to a model where we mostly work from home, conducting the bulk of our administrative tasks, plan and organise our courses and deliver our online courses from. We continue to offer face to face courses in the community at various venues (such as community centres, gyms, libraries and parks) and offer roughly a 50/50 split of face to face and online courses.
Map is loading...
It's given me the hope to try new things. I would like to say a big "thank you". These courses have kept me going in some trying times. All the people running the courses have been helpful and willing to listen to everyone. It's nice having other people to talk to going through a similar thing."
Map is loading...
It's helped me to get the confidence I need to go on the next step. Recovery College always gives me that small glimmer of hope and makes me feel worthy… thank you so much."