Volunteering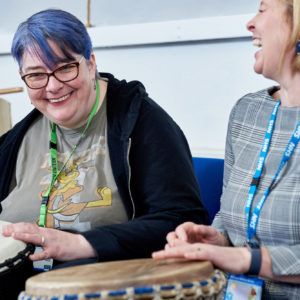 Have you thought about volunteering?
Do you have a practical skill or interest in gardening, knitting, crafts, cooking or something else?
Do you have an experience that you would like to educate others about, perhaps in mental or physical ill health?
Do you have a desire to support and encourage others?
Then why not become a volunteer with the Wakefield Recovery and Wellbeing College!
We welcome anyone over the age of 16 who feels they have the understanding and expertise to work with and share their experiences with our students.
Being a volunteer at the Wakefield Recovery and Wellbeing College is an opportunity to boost your skills, as well as give something back if you wish. We would welcome and support anyone who would like to volunteer within the College, providing you with:
A dedicated volunteer supervisor with a personalised volunteer placement plan to help enable and support you in volunteering
Regular contact with the team
Peer support from your fellow volunteers
Flexible volunteering hours/commitments to suit you
Reimbursement of travel and material expenses as acquired whilst carrying out your volunteering duties
Personal and educational development and training opportunities.
A volunteering environment that advocates co-production (to find out more about what co-production is, and more important is not, watch this short video from our friends at the Coventry and Warwickshire Partnership NHS Trust's Recovery and Wellbeing Academy.
If you would like to know more, please give us a call on 01924 316946, email us at wakefieldrecoverycollege@swyt.nhs.uk, or visit the Trust's dedicated volunteering web page.
If you would like to start your volunteering journey with us now, please fill out the enquiry form (making sure you specify that you are interested in volunteering with the Wakefield Recovery and Wellbeing College), click submit and a member of the team will be in touch with you shortly. We look forward to welcoming you to the team!
If you'd like to get involved, but aren't quite sure about committing to be a volunteer, we also have "Friends of the Recovery College" opportunities (which also encompasses our Discovery College). This is a more informal way of getting involved with things like shaping what the Colleges look like (our development and planning groups), looking at future courses to see if they fit with what our audience expect (our editorial panel), or even contributing to the weekly newsletter "The Supporter". If you'd like to find out more about what's involved with being a "Friend of the Recovery College", get in touch with one of the team.